The 2010 Dodge Challenger SRT8 is a re-issue of an old and world renowned muscle car. It is powered by a naturally aspirated 6.1 liter HEMI V8 engine capable of producing 425 horsepower at 6200 rpm, and 420 lb-ft (569 Nm) of torque. This allows the vehicle to accelerate from 0 to 60 mph in 4.9 seconds, and the engine generates a massive 69.8 horsepower per liter of gasoline. Such enormous power is kept in line using either a TREMEC TR 6060 six speed manual transmission with a pistol-grip gear handle, or a standard five speed automatic transmission with an Auto Stick.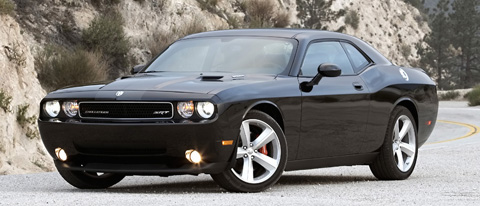 Driving feedback is provided via a 180 mph speedometer in the center of the display beneath the dashboard, surrounded by four-bomb gauges including a tachometer. Similar to the Dodge Charger SRT8, the Challenger SRT8 also comes equipped with an exclusive Electronic Vehicle Information Center (EVIC) with Performance Pages, granting the driver crucial information on g-forces, times and speeds.
The new Challenger SRT8 truly appeals to the desires of the modern muscle car enthusiast. Using fog lamps for headlights and the full-width grill were favorite aspects of the old Challenger, and are re-applied into the 2010 model for the sake of fulfilling the "Dodge Performance Attitude". The dual scooped hood with a raised center is also retrofitted into the new Challenger SRT8. True to muscle car heritage, racing stripes have also been applied.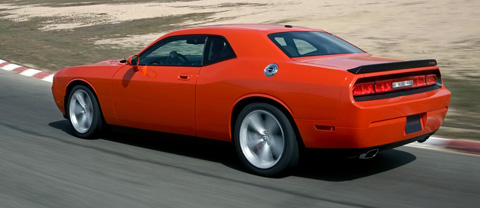 Interior detailing did not fall behind for the Challenger SRT8 either. They include racing tuned and reinforced bucket seats, complete with leather upholstery and red accents. The stitched accents are further applied to the steering wheel. Finally, the 2010 Dodge Challenger SRT8 comes furnished with useful 21st century features such as Uconnect™ Multimedia, Uconnect Navigation, Uconnect Phone and Keyless Go