The Ford Focus RS500 is one of those limited-editions models. Only 500 units of this car will ever be manufactured. A unique numbering system has been designed to keep count and for supreme exclusivity.
The Ford Focus RS500 takes the original body design and beefed it up for this edition. To add more punch, all 500 units of this car is going to be painted in its standard Panther Black metallic finish. But it doesn't stop there. After getting painted, each unit will be shipped to a 3M facility in Frankfurt, Germany and applied a special foil film to achieve the matte black effect. The film acts as a protective shield against nicks and superficial scratches. And the best part of this is if the film gets damaged, Ford dealers will employ a team of 3M technicians to replace the affected film.
.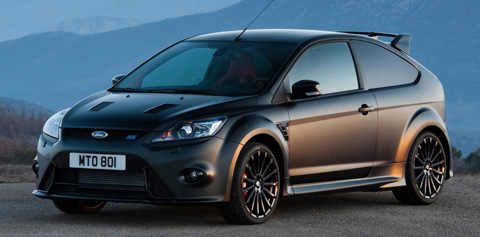 The interior design of the Ford Focus RS 500 is nothing short of superb. The interior is decked in a special red color palette. This can be seen on the leather trim stitching on the steering wheel, door trims, gear lever gaiter, and floor mats. To have more oomph, customers can opt to have the standard Recaro front sports seats done in red leather.

Key Features
- Heated windscreen
- Dual-zone climate control
- Rear parking distance sensors
- Automatic headlights and rain-sensitive wipers
- Ford key-free start

Specifications
- Number of units: 500
- Engine: 2.5 liter inline 5
- Aspiration: turbocharged
- Horsepower: 345 hp @ 6000 rpm
- Torque: 339 lb-ft
- 0-62 mph in 5.6 seconds