The Novitec Rosso Ferrari California made its first appearance at the Geneva Car Show in 2010. Novitec Rosso had made extensive upgrades on the Ferrari California from the exterior, to the interior, and to the engines. Novitec Rosso had given the Ferrari California and edge in terms of appearance by making it sportier. This was made possible by a supercharger engine tuner.

It has a 4.3 liter engine with four valves. This 8 cylinder model is equipped with a mechanical charger as well. The exhaust system of this car is improved using Novitec Rosso's stainless steel exhaust outlet. Then, a manettino, located at the steering wheel, can be used to control the exhaust system. The car's acceleration is also something that Novitec Rosso takes pride in. From a full stop, the car can go to a hundred kilometers per hour in less than 3.8 seconds! Then, it can go to a top speed of 325 kilometers per hour.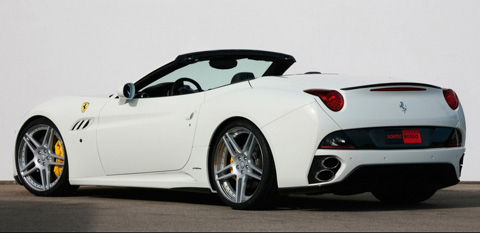 The height of the Ferrari California was lowered by 35 millimeters. The car is equipped with a hydraulic lift which allows the driver to lift the front of the car by 40 millimeters at the click of a button. Thus, running across humps or stones will no longer be a problem.