The speed freaks at Mercedes-Benz's tuning subsidiary and skunkworks, AMG, are preparing an electric version of the forthcoming SLS AMG gullwing über-coupé.
And here's a schematic of the beast's "SLS eDrive" power train:
AMG boss Volker Mornhinweg recently said the SLS eDrive is pencilled to enter production in 2015. Its petrol-powered sibling, the V8 SLS, will be officially unveiled at the Frankfurt Motor Show in September.
Unlike the V8, which makes do with power going solely to the rear wheels, the leccy version will be four-wheel drive with each wheel driven by an in-board - rather than in-wheel - electric motor.
According to AMG, the eDrive's motors will produce a combined 392kW (525bhp) of power and 649lb-ft of torque compared to the 571bhp and 479 lb-ft produced by the 6.2l V8 engine in the standard car.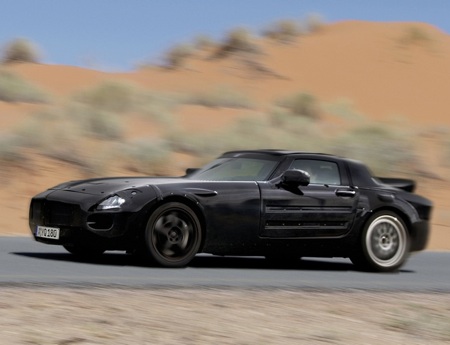 Testing the SLS mule in the desert...
The SLS eDrive development will be able to hit 60 in less than four seconds and has a top speed of over 120 mph. Corresponding numbers of the V8 are 3.8s and 198mph, respectively.
The range is rather less impressive, though: between 93 and 112 miles, depending on the load placed on the motors. Presumably, AMG expects those numbers to rise – and dramatically - between now and 2015.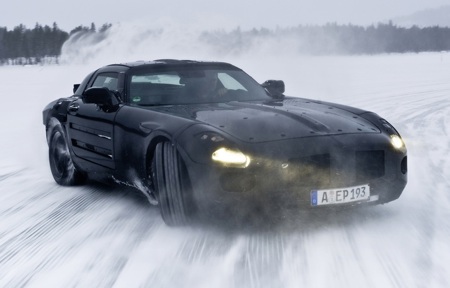 ...and in the ice
The eDrive's batteries will sit under the floor in the space taken up in the V8 by the "torque-tube" that connects the front-mounted engine to the rear-mounted gearbox and in the space left vacant by the fuel tank.
As a footnote the SLS eDrive's lithium-ion battery pack will be supplied by German company Evonik rather than Tesla with whom Mercedes-Benz recently formed a partnership with just this sort of battery and drive train development in mind.